Salvador Dalí was a major painter and sculptor of the 20th century. He owes his fame to his outstanding creativity and bizarre inventiveness that exude from his works. With an eccentric personality, he has always pursued the ideal of a worldly life, transforming himself from a famous artist to the myth we all know.Salvador Domingo Felipe Jacinto Dalí Domènech, was born in 1904 on 11th of May in Figueres, Catalonia. His father was a notary, with a strict and austere temper, for whom Dalí had several conflicts throughout his life. His mother, on the other hand, played the role of supporter towards her son, encouraging him and loving his artistic skills.
The artist had the same name as his older brother, who died before his birth. His parents, at the tender age of five, told him of their firm belief that he was the reincarnation of his brother. That influencedhim so much until became a relevant element for the formation of his person, in fact, he wanted to emphasize the difference between the two, flaunting his singular personality.
Salvador Dalí, from an early age showed to have amazing gifts in the field of art.
His mom passed when he was 16, in 1921, it's been a really hard time for him, because he was so close with her. In 1922 he decided to increase his studies by enrolling at the Academy of San Ferdinando in Madrid. That, was the period where he met thecinematographerLuis Buñuel and the poet Federico Garcia Lorca and with them he created a deep friendship until Franco's regime.
Thanks to this relationship they were able to connect in an artistic way. They saw the world with the same eyes, so they influenced each other in their art and in their personalities. The collaboration with Luis Buñuel, with several short films, affected Dalí on his characteristic mustache, which will later become an unmistakable signature of the artist over time.
In that period his interests were towardsdifferent artistic movements such as metaphysical painting and Cubism.
He travelled a lot, and in his trips to Paris between 1926 and 1929 Dalí met important artists of the time such as the painter Pablo Picasso, whom he highly esteemed. In those years, he was inspired by Impressionism, Futurism and Cubism. Also, he knew the painter and sculptor Joan Miró, the poet Paul Éluard and the painter René Magritte, who led Dalí to the Surrealist movement that brought out his unconscious. That, was inspired by André Breton's 'psychic automatism',and then Dalí theorized the personal technique known under the name of" paranoid-critical method ". This method gives voice to his unconscious, which frees his creativity and gives space to the irrational part of a man, to his instinct and to his dreams. In fact, Dalí was strongly inspired by Sigmund Freud's theories of Psychoanalysis that transpire from real objects presented in an illogical way by the artist, as in our dreams. The presence of dream characters in Dalí's works, however, were in contrast with the classical technique, applied by the artists, typical of the Renaissance period.
In 1929 Dalí had an important meeting with the woman Elena Ivanovna Diakonova, known as Gala, who ended her marriage with the poet Éluard to become Dali's wife and muse.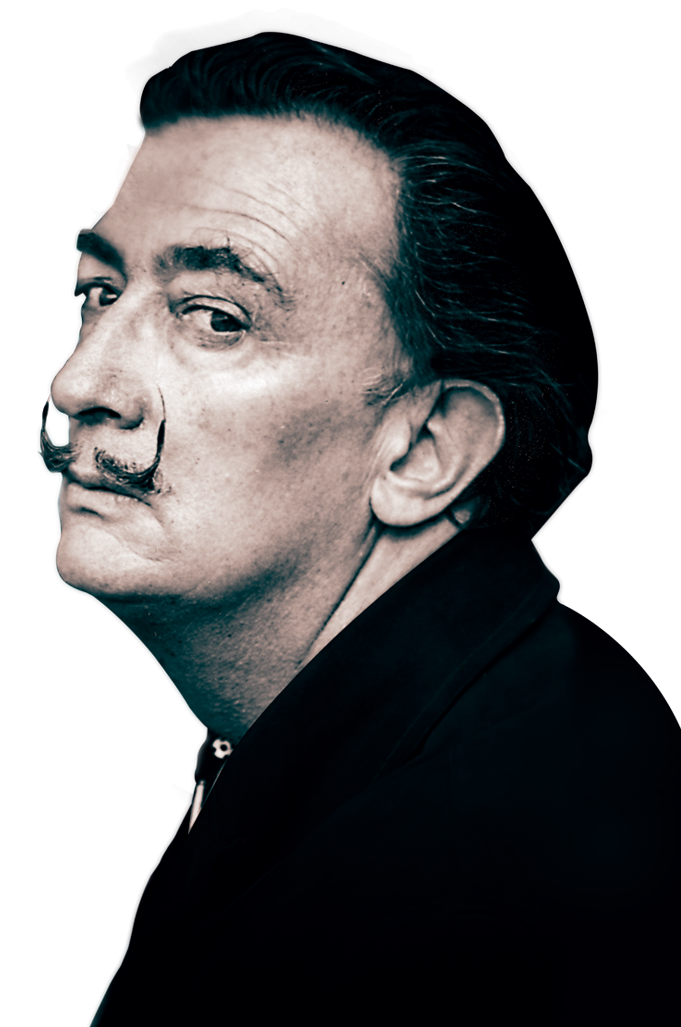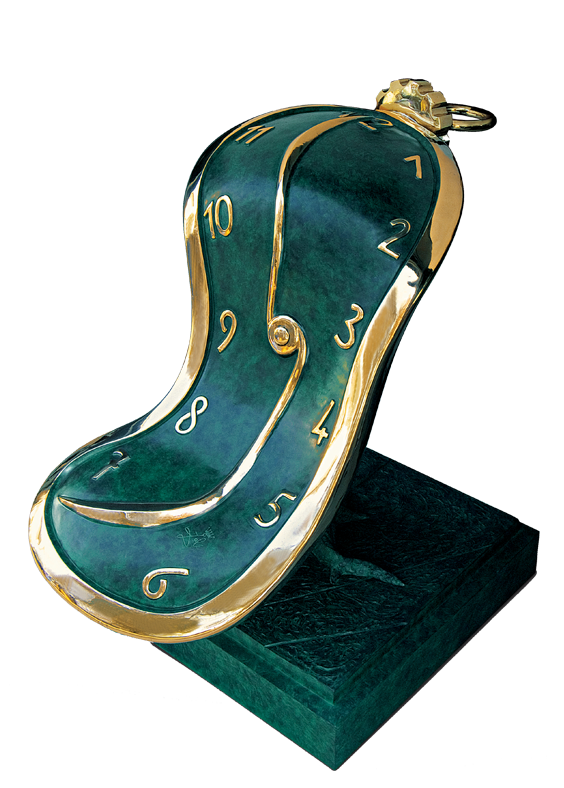 Dalí became one of the major members of the Surrealist movement. His most important work is The Persistence Of Memory (1931), in which the artist shows shapeless clocks, like spindles, placed in a mysterious space, probably Port Ligat beach. The clock, a tool for measuring time objectively, surrenders to the subjectivity of memory. According to Dalí, Time, cannot be a trustworthy constant, as it is flexible and changeable. Dalí experienced in every field of artistic creation: from painting to sculpture, from the creation of jewelsto knowledge of advertising, theater and cinema industry. His extravagance made the publicdiscuss a lot, and during his public appearances he created many controversies. The 30's and40's were the key of Dalí's success, so in 1936, he earned the cover of "Time", and it was made an exhibitionof his works at the MOMA in New York.
With the Second World War, he emigrated to the United States and began to paint portraits of wealthy Americans for the Knoedler Gallery but above all he created the famous face of Mae West. Furthermore, in U.S.A. he had important collaborations with Walt Disney and Alfred Hitchcock, on the sequence of the dream of "Spellbound".
The explosion of the atomic bomb in Hiroshima influenced the artist's production. His "Nuclear Mysticism" was born. The works of this period, dealt with religious, historical and scientific themes, combined with the technique of meticulous details with a fantastic and unlimited component. Between the 60's and 70's, the meeting with Beniamino Levi brought the artist to develop an interest in three-dimensional art that will lead to the creation of many of his sculptures. The publication of Las Metamorfosis Eròticas, let us understand his paranoid-critical method, and the announcement of the creation of Dalí's museum in Figueres, which later became the Dalì Theater-Museum, opened in 1974.
The year of 1980 marked the end of his career due to a motor disorder that brought him to have permanent tremors, thus losing one of his greatest skills to communicate. In 1982 his beloved Gala passed away and only after two years he was involved in a serious fire from which he reported burns that forced him to wheelchair. Dalí died of heart failure at the age of 84 on January 23 in 1989.